NORTHERN RIVERS – ABODE2 PROPERTY UPDATE
Real estate sales and property development continue to perform well in the Northern Rivers. Sales of established properties have never been stronger according to local real estate agents. The only issue agents have is securing enough properties to meet the demand.
Agents are reporting sales without purchasers even visiting the properties being bought! Strong demand is being seen from people within the Northern Rivers as well as those from Brisbane, Sydney and Melbourne looking to relocate.
THE NSW LOW RISE HOUSING DIVERSITY CODE
The Low Rise Housing Diversity Code – formerly the Low Rise Medium Density Housing Code – facilitates a diverse range of housing. The Code allows well designed dual occupancies, manor houses and terraces (up to two storeys) to be carried out under a fast track complying development approval (without the time and costs involved in obtaining a Council development consent).
The Code is currently operating in all local government areas across NSW.
Dual occupancies, manor houses and terraces can be built as complying development in R1, R2, R3 and RU5 zones where this type of housing is already permitted under a council's Local Environmental Plan (LEP).
Complying development approval can be issued within 20 days if the proposal complies with all the relevant requirements in the State Environmental Planning Policy (Exempt and Complying Development Codes) 2008.
Development must meet all of the development standards in the Code and the Design Criteria in the Low Rise Housing Diversity Design Guide for complying development.
We have had a semi-detached duplex approved as a Complying Development under this Code and have a Manor House design being completed that has been designed per the Code.
The Manor House provides 4 x 2 bedroom dwellings able to be strata titled. We believe this form of housing can provide alternate, affordable housing outcomes with a strong yield. There is a bit to consider in terms of site selection and then design but we are looking forward to some exciting projects being rolled out under this Code.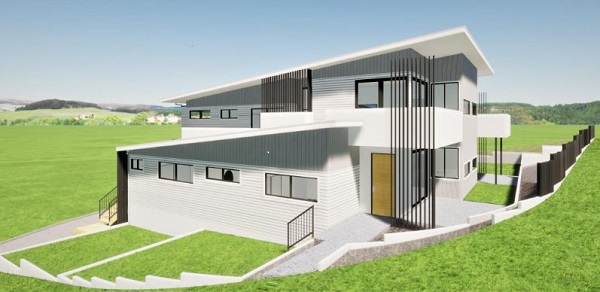 HOMEBUILDER FEDERAL GOVERNMENT GRANT PROGRAM UPDATE
HomeBuilder provides eligible owner-occupiers (including first home buyers) with a grant of $25,000 to build a new home or substantially renovate an existing home. How you apply and access this grant is still to be announced in NSW but that hasn't stopped the projects starting.
We are now managing a variety of new builds. We have a good handle on what can be a Complying Development (not requiring a Council DA) and use this pathway whenever possible. Saves a lot of time and a bit of money.
HomeBuilder applications are to be lodged via an online portal, which will be available shortly at NSW Revenue home page …
A Grant Application and Lodgement Guide has been released and is available – Click Here for this Guide … The application form and lodgement guide are provided as a guide to assist in preparing your application for lodgement via the online portal.
Applications must be received by no later than 31 December 2020.
Applicant(s) can lodge their application in a multi-step process with the initial lodgement being after an eligible HomeBuilder contract has been entered into. Once commencement of construction and the payment eligibility requirements milestones have been met, any additional supporting documentation should be lodged via the online portal.
REGIONAL DEVELOPMENT AUSTRALIA – NORTHERN RIVERS
We were very pleased to recently become a Brand Member of Northern Rivers NSW. Northern Rivers NSW is a marketing and branding initiative of Regional Development Australia who is seeking to work across all industries and businesses to promote the Northern Rivers as a great place to invest, live and work. Their focus at the moment is on COVID 19 and how to best position the region's economy during and through the other side of the pandemic.
I was excited to see that there was an organisation based locally that has the charter to seize on economic opportunities and attract investment as well as supporting and working with local businesses to grow local jobs and access growth opportunities.
The changes we are seeing now with more people wanting to live in our region will really drive both population and economic growth.
Many are now remote working (not in an office) and we are using technology better than we did before (and using some new technologies). This is encouraging people to consider living regionally whilst maintaining a work and professional connection back to the cities.
Many are now seeking a cleaner more healthy lifestyle that can only be found outside of the high density living in cities. The Northern Rivers has always been seen as an area that is desirable in terms of beaches, hinterland etc but post Covid-19 the need for a "clean" lifestyle and lower density living is going to drive change.
Employment post Covid-19 will change and the Northern Rivers is ideally positioned to capitalise on these changes.
We know that increased construction based on new housing, and other developments, has a significant economic multiplier and provides major employment opportunities. Technology and other changes to our workplaces and workforce will also deliver long term and sustainable employment opportunities.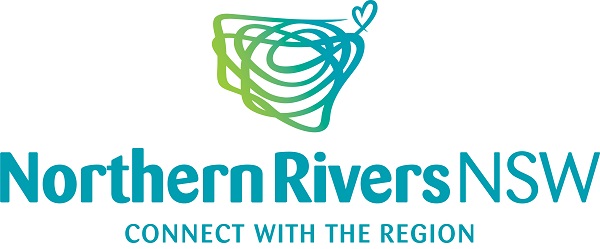 SOME INTERESTING ARTICLES ON NORTHERN RIVERS HOUSING
Forget Cities, the Post-Covid Push Towards Towns – CLICK HERE for an interesting article highlighting how people are now moving to regions and towns …
Millennials Making Big Move to Regions – CLICK HERE for an article discussing younger people relocating from cities and moving to regional areas …
HOME owners in Northern NSW are sitting pretty, as new research reveals the majority of towns have seen an increase in property prices – CLICK HERE for an article in early July 2020 highlighting increasing property prices in the Northern Rivers…
TWEED VALLEY HOSPITAL
The Tweed Valley Hospital has been fast-tracked through the approval stages by the NSW State Government meaning the $673.2 million project is now all systems go. The construction is expected to generate 650 construction jobs plus many hundreds once the hospital is operating.
Once complete, the Tweed Valley Hospital will provide significantly improved and expanded services for the local community, including more beds, an expanded emergency department and enhanced medical, surgical and mental health services. It will have expanded outpatient services with more clinics, a new interventional cardiology service and a new radiotherapy service as part of integrated cancer care. The hospital will also support the broader Northern NSW region as a referral hospital.
The new hospital remains on track to open to patients in 2023.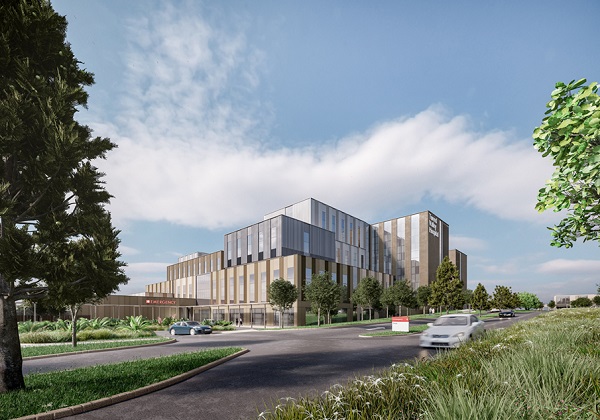 GENERAL UPDATE – EPIQ ESTATE SUBDIVISION – LENNOX HEAD
We have several projects we are currently managing in the Epiq development in Lennox Head. All of these projects deliver dwellings that are well designed, functional and offering something a bit different (dual key dwellings, home offices included etc)!
We recently completed a detached duplex, each dwelling had 3 bedrooms, 2 bathrooms and lovely north facing outdoor areas. We sold the first dwelling whilst under construction which was pre-Covid 19 and statewide shutdowns for a price of $775,000. Covid-19 then hit and we were unsure what impact this would have on prices. Interestingly, the second dwelling also sold for $775,000. This was a direct and measurable example indicating that the Covid 19 issues have not impacted on prices in our region. If anything prices are increasing in and around key coastal areas.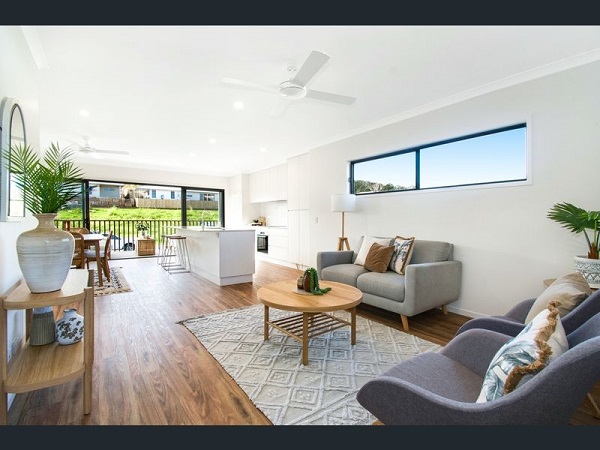 All sites in Stage 5 have been sold and in fact, there is no vacant land currently for sale in the Epiq development. Demand and interest remain very strong. Stage 5 civil works are now completed. Lots of interest and it is certainly looking good. Those who have purchased in Stage 5 have done well!
Recently completed duplex dwellings, in particular, are getting strong results.
We are pleased to be taking to market a semi-detached duplex at 99 Stoneyhurst Drive. Flexible floor plan with 2 x 4 bedroom 3 bathroom dwellings with great northern living areas and some lovely views over the Epiq development. Construction is well underway. See some renders below showing these dwellings.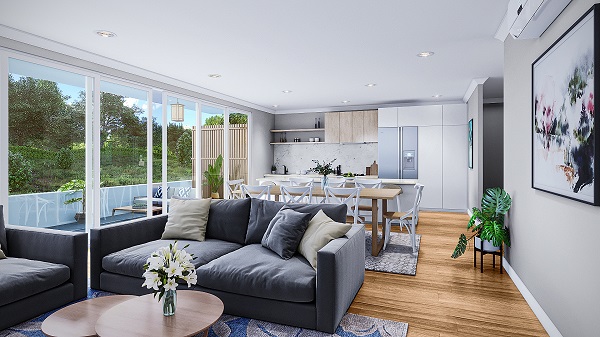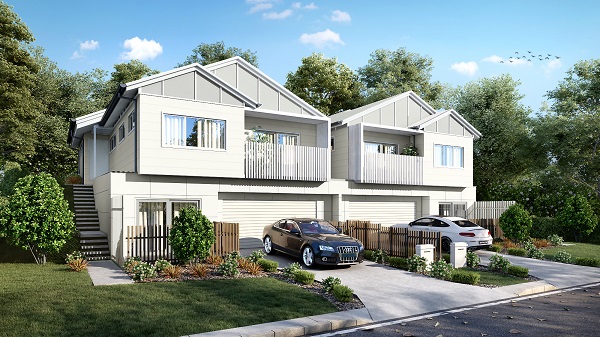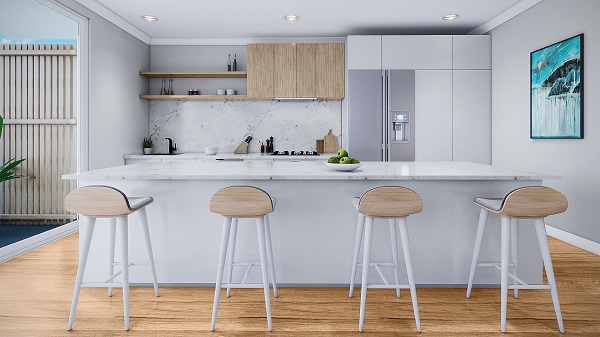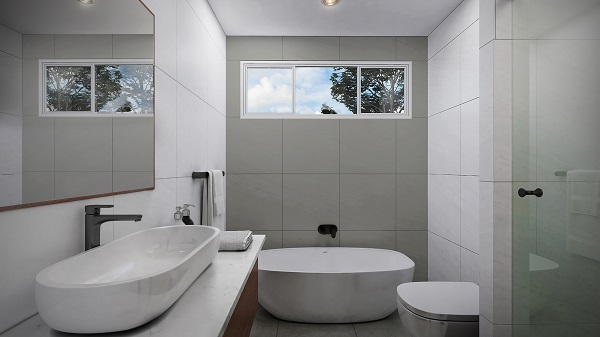 OPENING OF EPIQ MARKETPLACE
Epiq Marketplace is now open with Woolworths, BWS, gym and a coffee shop being the first operating businesses.
The other tenancies are all in the final stages of fit-out so the centre should be fully operational shortly.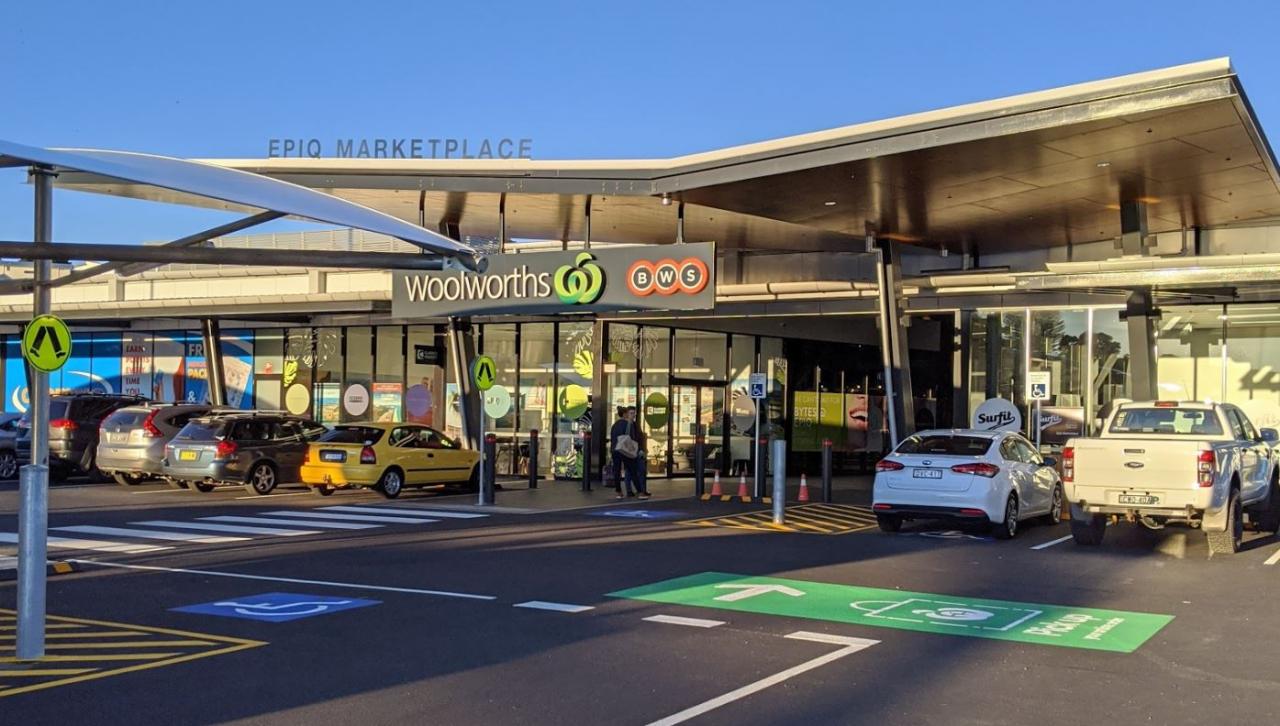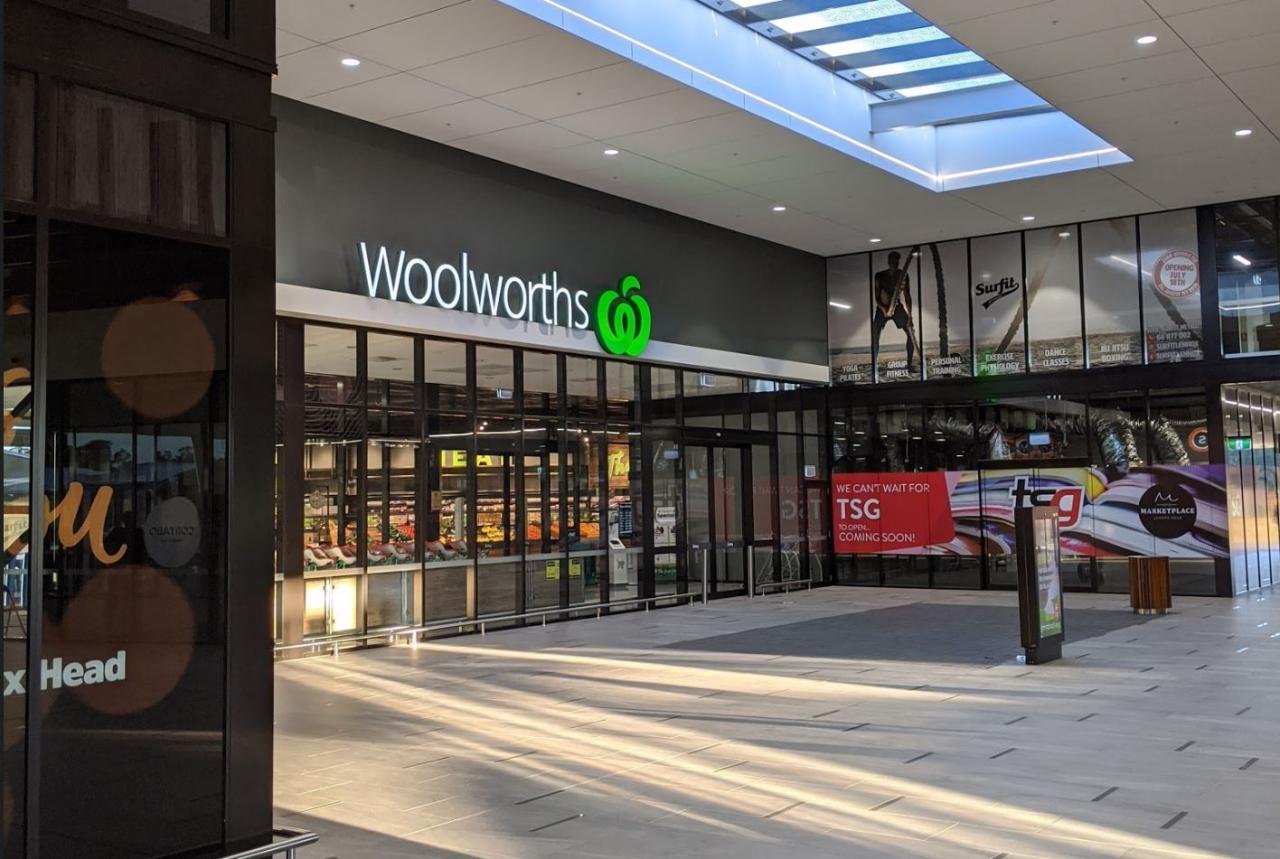 OTHER EPIQ NEWS
The new access road is now opening and operating. This access means it is about a 3-minute drive from the new Woolies to Lennox Village and beaches.
Council has recently installed sports lighting to the Epiq playing fields. These sporting fields will be a great asset to the local community. Now only change and canteen facilities to go before these fields become fully functional (plans for these facilities shave been agreed on).
LENNOX VILLAGE UPGRADE
With the new shopping centre at Epiq changing the dynamics of how Lennox works Ballina Council is now planning a major upgrade of Lennox Village.
This will be a significant enhancement and will involve upgrading of the streets, pedestrian access, parks, play areas, amenities and green spaces. The aim is to maintain the village as a low-key and social coastal village but will further promote the linkage between the village and the beach.
Click the link for further details on the Lennox Village upgrade…
With the recently completed upgrades at Lake Ainsworth, Lennox Head is taking shape as a great place to live, work and play.
MORE INFORMATION
Steve Condon from the Abode2 office can answer any queries on the projects we have or any aspects of property development in the Northern Rivers.
Steve can be contacted at scondon@abode2.com.au or 0402 432 884.